The Albert Baker Fund was delighted to help plan the Career Networking Connection Hub at Adventure Unlimited's 60th reunion event on August 21-24. ABF Outreach Director Harve Kaufmann hosted the breakout sessions and ABF Career Coordinator Robin Glenn Jones provided information on the ABF Career Alliance.
Tom Denison delivered a dynamite presentation on Characteristics of an Entrepreneur, and then hosted breakout session on this topic. Other break­out sessions included speakers on entrepreneurship, workplace culture, encore careers, women in business, and building a career community for Christian Scientists (through the ABF Career Alliance!).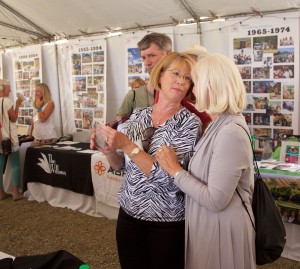 We're sharing speaker resources and recommendations here in the ABF Career Alliance Resource Center.
Session: The Changing Landscape of Workplace Culture: Moving from Hierarchy to Collaboration and Teams
China Gorman, Host
Recommended books:
The Trustworthy Leader, by Amy Lyman, 2011
No Excuses, by Jennifer Robin, 2013
Delivering Happiness, by Tony Hsieh, 2010
Conscious Capitalism, by John Mackey, 2013
Uncontainable, by Kip Tindell, 2013
Session: Encore Careers: Crafting Your Own Definition of Retirement
Todd Herzer and Rich Clarke, Hosts
Recommended books by Todd Herzer: 

The Third Chapter: Passion, Risk, and Adventure in the 25 years after 50, by Sara Lawrence-Lightfoot
Recommended books by Rich Clarke
Don't Retire, Rewire, by Jeri Sedlar & Rick Miners–one of the two best I've read, asks good introspective questions, makes you think, very helpful
From Making a Profit to Making a Difference, by Richard M. King–the other best one, gets to the question of which types of non-profits among other things, would suit you best based on personal interests/values
The Encore Career Handbook: How to Make a Living and a Difference in the Second Half of Life, by Marci Alboher–comprehensive "nuts and bolts" guide to planning a career transition and making a difference, well regarded.
Repacking your Bags, by Richard J. Leider & David Shapiro–good, easy read, helpful
Best Practices of Effective Nonprofit Organizations: A Practitioners Guide, by Philip Bernstein–helpful to read before beginning the job.
Careers in the Nonprofit Sector; Stephanie Lowell: HBS Guide: lists a number of non-profits by category, reading list, resources, good to have for reference purposes.
100 Best Nonprofits to Work For; Leslie Hamilton & Robert Trager–the title says it all
Jobs and Careers with Nonprofit Organizations, by Ronald L. Krannich & Caryl Rae Krannich, Ph.D's–strategies, helpful reference material, also list of non-profit orgs and associations.
Managing the Non-Profit Organization – Principles and Practices, by Peter F. Drucker–somewhat dated but still applies.
Leap, by Sara Davidson–haven't read it but heard about it on the Today Show when they talking about career transitions and were interviewing author
Do What You Love, by Nancy Whitney-Reiter–good, practical guide that surfaces a number of things to consider in making the transition
Recommended websites:
Recommended recruiters who specialize in non-profits:
For a full listing of recruiters who specialize in non-profits, Rich recommends the Kennedy Directory of Recruiters. He adds that most major recruiters such as Korn Ferry, Heidrick & Struggles, and Spencer Stuart have practices that include non-profit executive search. Some have jobs posted as well. If you may google "non-profit jobs," you'll get additional non-profit recruiters, as well as links to other resources and websites.
Session: Women in Business, Engineering, and Tech: Opportunities, Challenges, and Experiences
Lara Shisler, Tracy Van Houten, and Diane Witters, Hosts
Resources for women (and men) in STEM (Science, Technology, Engineering and Math) Careers:
Recommended by Diane Witters, Colorado School of Mines
Salary negotiation:
Start Smart and the Wage Project offer seminars for women on salary negotiation. It provides practical tools and background reasoning for salary negotiation skills. Diane attended a training session and found it "eye-opening."
Recommended books:
Let Your Life Speak: Listening to the Voice of Vocation, by Parker J. Palmer, 1999
The Secret Thoughts of Successful Women: Why Capable People Suffer from the Imposter Syndrome and How to Thrive in Spite of It, by Valerie Young, Ed.D
Ask For It: How Women Can Use the Power of Negotiation to Get What They Really Want, by Linda Babcock, 2008